Chemical Peels
Chemical peels include a wide range of exfoliation procedures that produce a peeling effect on the skin. The ultimate goal of any peel is the removal of the skin,s outer layer of primarily dead cells and the stimulation of collagen and elasticity to tighten and firm the healthy layer beneath. When preformed properly, this procedure can effectively diminish the appearance of wrinkles, age spots, hyper-pigmentation, blemishes and more with little to no trauma to healthy cells. Peels encourage gentle, effective renewal.
Peels can vary in intensity, from a superficial peel, to deep epidermal exfoliation like the TCA peel and a Jessner peel.
Lactic acid
Great for skin that is sensitive. This peel smooths and brightens skin without over drying. Exfoliates without irritation.
Glycolic Acid peel
Exfoliates and unclogs pores, clarifies the complexion, and reduces the appearance of scars, fine lines and hyper-pigmentation.
Salicylic Acid Peel
Great for those that suffer from acne. Exfoliating with in the pores and help's fade hyper-pigmentation
Trichloroacetic Acid Peel (TCA)
This peel is for clients that want results. Great on acne scars, fine lines, sun damage and hyper-pigmentation.
Jessner's Peel
Reverses signs of aging. Treat resistant acne, sun damage, fine line, acne scars and impacted acne.
A chemical peel may not be best if any of the following apply
A herpes infection in the therapy area

You have had Accutane recently.
You have had any recent facial surgery or radiation.
Any allergies to medication.
A suppressed immune system.
A skin analysis is done before all facials and chemical peels to determine the best service to achieve the desired results.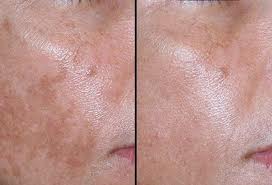 For best results a home care program is recommended. This will prepare the skin for superior penetration of the chemical peel.